Special Events
Public Policy Team Members Attend Oregon Health Forum Breakfast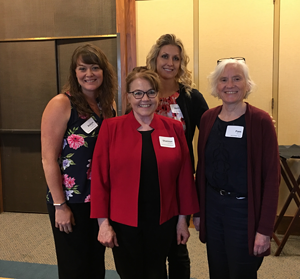 The Oregon Health Forum panel presented to a full house over breakfast on 6/21/18. Attendees listened to expert panelists as they discussed CCO 2.0 -The Future of Coordinated Care Organizations. The panel included:
Tina Edlund, Senior Health Policy Advisor, Office of Governor Kate Brown
Lindsey Hopper, JD, MPH, Vice President of Medicaid at PacificSource Health Plans
Eric Hunter, CEO of CareOregon and Chairman of the Board at HealthShare
John Kitzhaber, Former Governor of Oregon
Mike Shirtcliff, President of RMS Dental Director Inc.
Public Policy Team Members Robyn Velander RDN, LD, CNSD, Shannon Stember RDN, LD, and Rochelle Inwood MS, RDN, ACSM EP-C connected with Representatives Pam Marsh, District 5, Ashland and Rob Nosse, District 42, Portland and met Oregon Health Authority Director Patrick Allen. In addition, Robyn Velander thanked Tina Edlund personally for encouraging mindfulness of food security issues in Oregon as The Future of Coordinated Care Organizations unfolds.

If you are interested in reading more about this event click here.