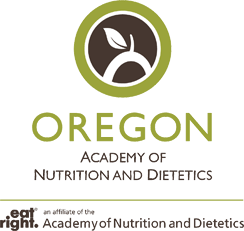 Our members are leaders in food and nutrition.
more

Welcome to our website! We are a professional membership organization representing Registered Dietitian Nutritionists and Nutrition and Dietetic Technicians, Registered. Our 600+ members are proud to serve Oregonians with our food and nutrition expertise.

The 2023-2024 year is almost half over - and we've had a productive time. Your leaders are hard at work! Work continues on the 2024 annual conference (in person in Tacoma, Washington), provide continuing education, and supporting your work as a food and nutrition professional. Conference registration is open! Learn more.

Let us know how we can help!

Sandy Jablonka, RD, LD - 2023-2024 Oregon Academy of Nutrition and Dietetics President
Jobline
There are no job opportunities posted at this time.
view all