2014-2015 Events
Vietnamese Culture and Cooking Class

September 15, 2014


On Monday, September 15, PAND kicked off the 2014-2015 membership year with the Vietnamese Culture and Cooking Demo. Kim Nugyen, MPH, RD from Tuality Healthcare, presented on the Vietnamese culture and the traditional foods of North, Central and South Vietnam. We were all exposed to staple foods in the Vietnamese diet, such as fish sauce and fresh herbs, and learned about the importance of rice in the culture. During the presentation, attendees learned how to prepare two dishes: green papaya salad and rice noodles with grilled lemongrass pork skewers. Needless to say, dinner was delicious!

Attendees also broadened their language skills, by learning how to say "Hello," "Thank you," and "Bon appetite' in Vietnamese. We all practiced speaking these phrases with peers and to those serving each course of the meal. Following the presentation was an insightful discussion on the importance of cultural competency for nutrition professionals. The night was not complete without dessert! We all tried a sample of Vietnamese fruits, including: jackfruit, longan, rambutan, dragon fruit and pomelo. When working with a client from Vietnam, I will be sure to ask: "Have you had your rice today?"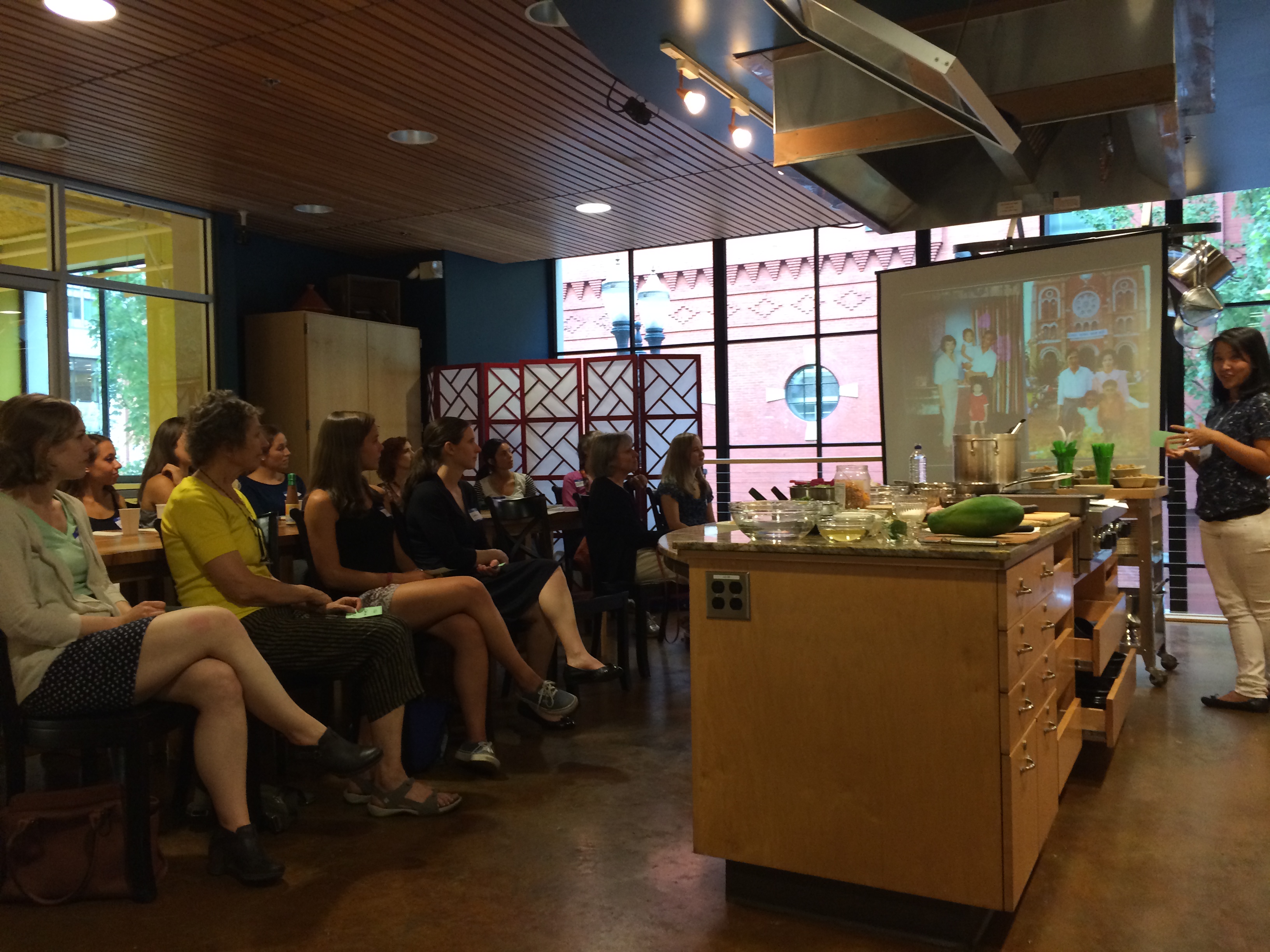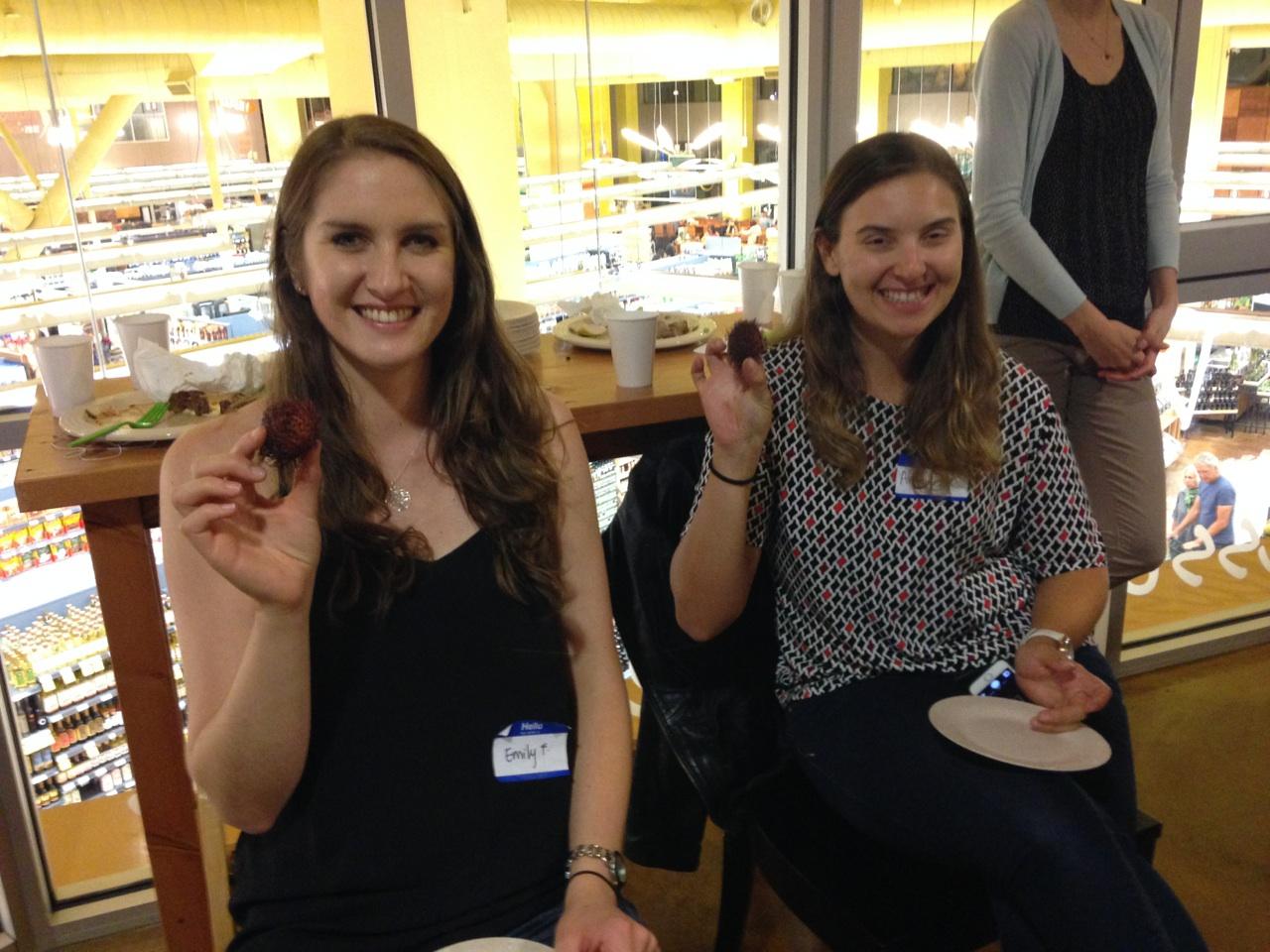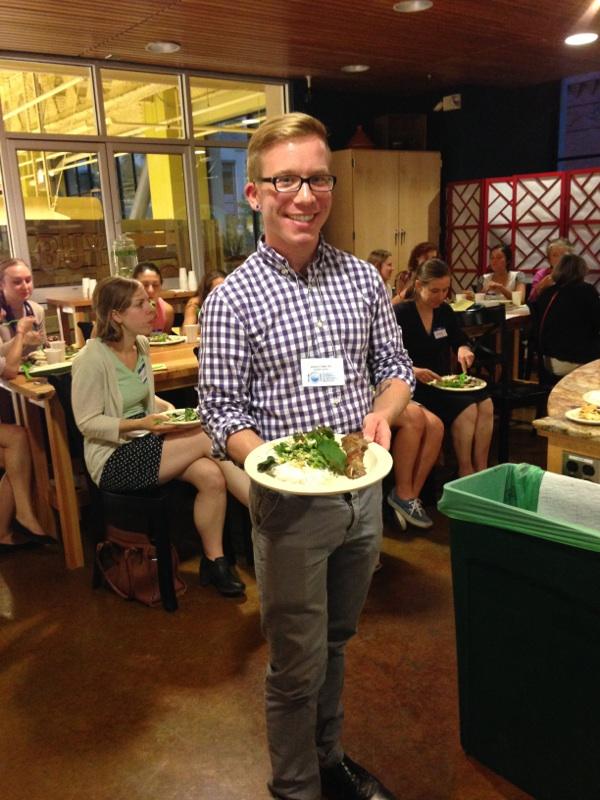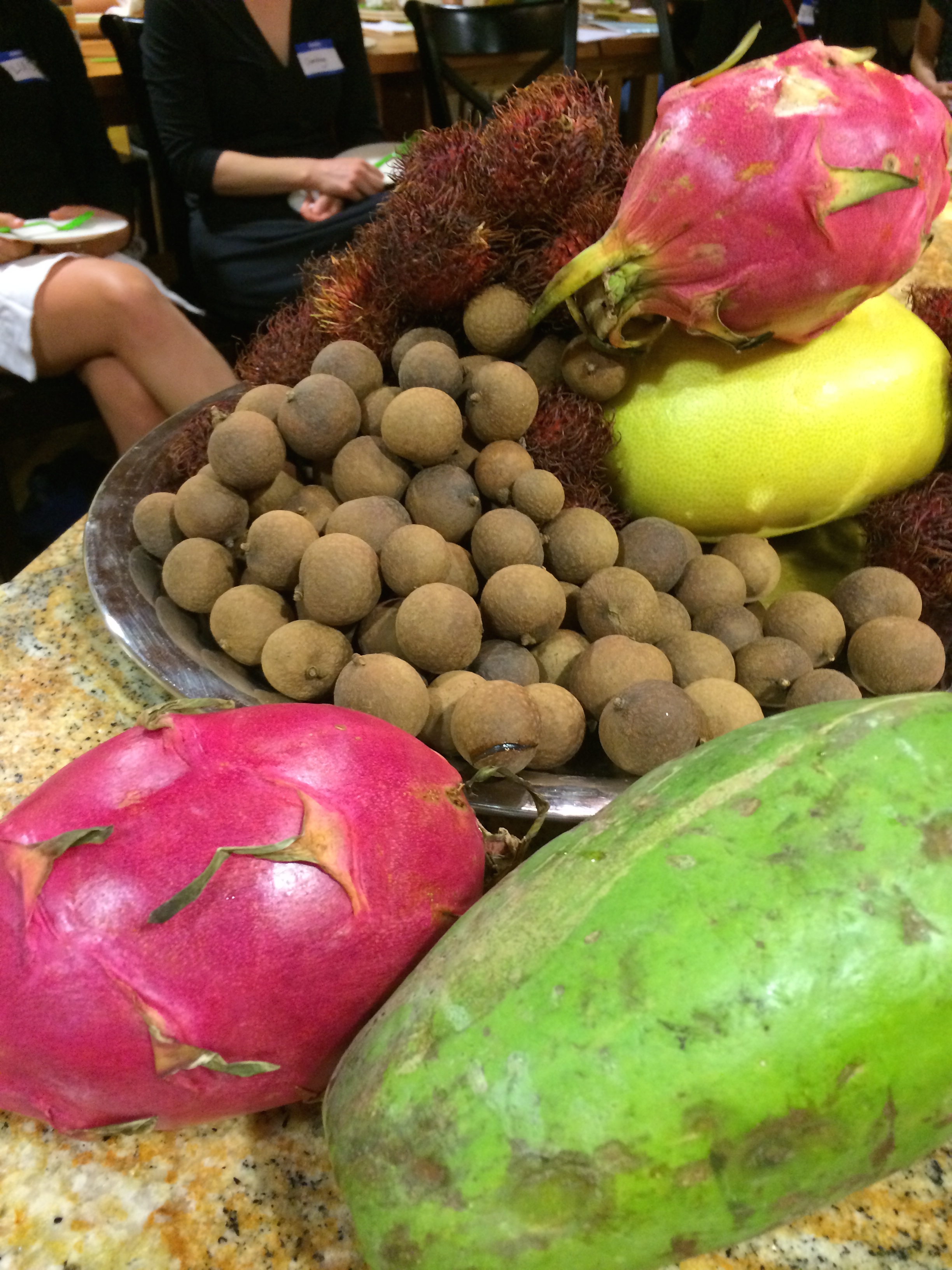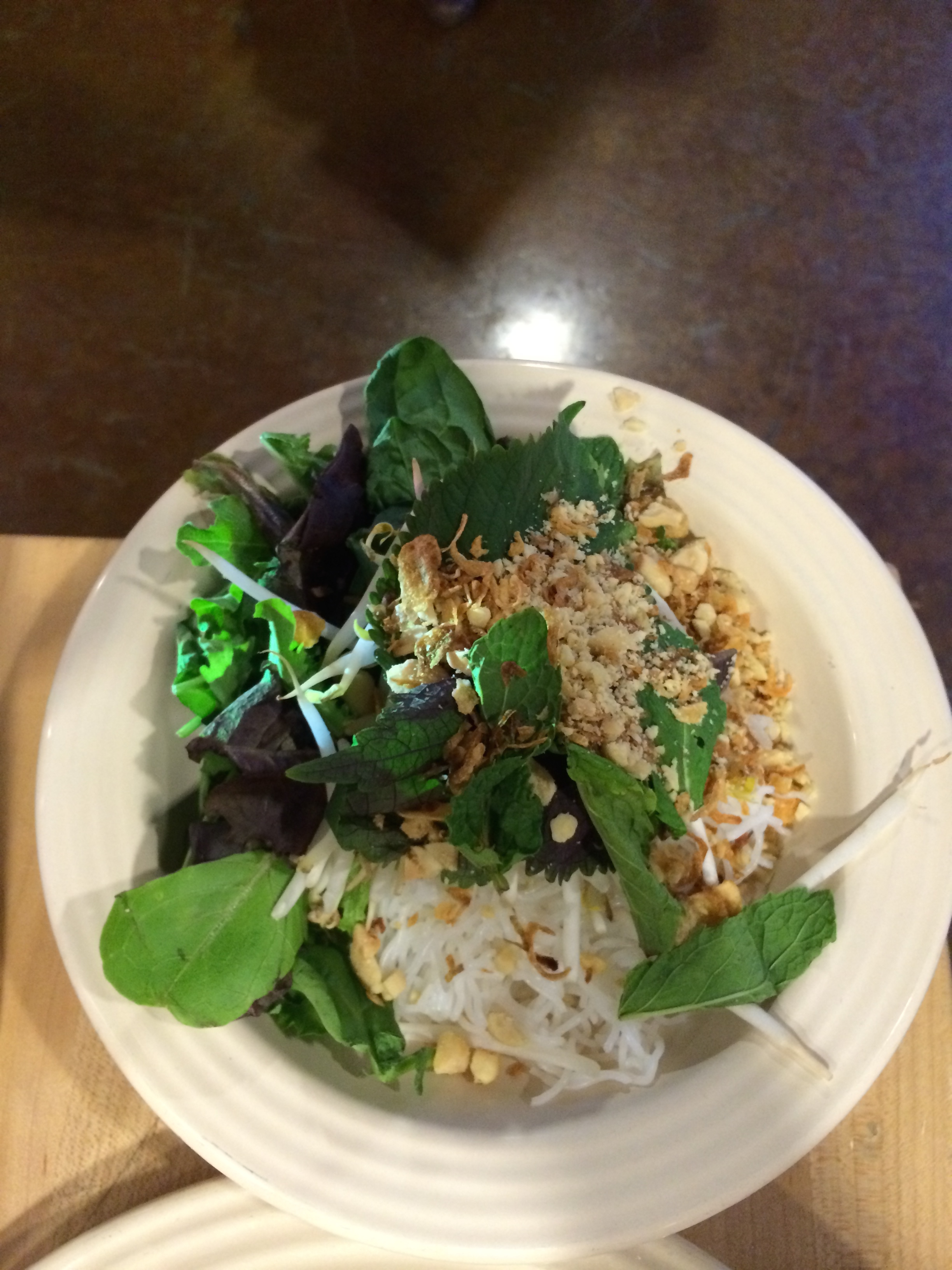 ---
Book Club
October 13, 2014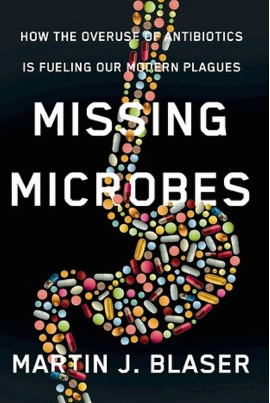 The OHSU Graduate Programs in Human Nutrition hosted a riviting book club discussion on:
Missing Microbes: How the Overuse of Antibiotics is Fueling our Modern Plague by Martin J. Blaser M.D.

"This book takes readers to the forefront of research while revealing the damage that overuse of antibiotics is doing to our health: contributing to the rise of obesity, asthma, diabetes, and certain forms of cancer. Blaser provides cutting edge evidence for the adverse effects of antibiotics, and tells us what we can do to avoid even more catastrophic health problems in the future."
---
GMO labeling: Science, safety, and ethics
October 15, 2014

On Wednesday, October 15, 2014 Dr. Steve Strauss, a professor at Oregon State University's College of Forestry came to OHSU to speak about genetically modified organisms (GMOs). The majority of his research at OSU has focused on genetically engineered trees for uses in forestry, bioenergy, and horticulture. Dr. Strauss expressed his opposition to Measure 92, which would require labels on GMO-containing foods. In his opinion, we do have a right to know what is in our food; however, measure 92 stigmatizes one method of genetic modification and doesn't account for different types or amounts found in food. Another reason Dr. Strauss cited in opposition of measure 92 was the increased cost of food due to segregation, tracking, and inspection. Dr. Strauss said it is more important to focus on high risk health concerns such as, food borne illnesses rather than a low risk health concern like GMOs. On a global scale, the use of genetic modification is producing a lot of benefits in the food industry. Crop production has increased, millions of hectares of land have been saved, and poverty has been alleviated in many areas of the world. According to Dr. Strauss, there is no scientific evidence of toxic effects due to GMOs.

On Tuesday, November 4th, Measure 92 did not pass in Oregon.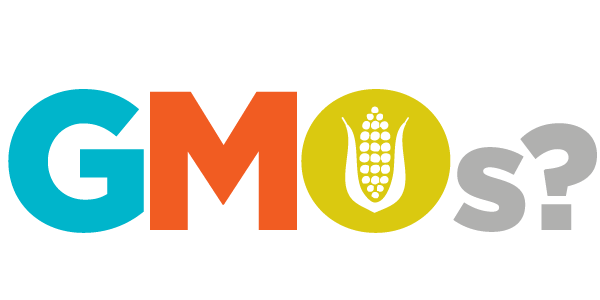 ---
PAND Volunteer Event
November 9, 2014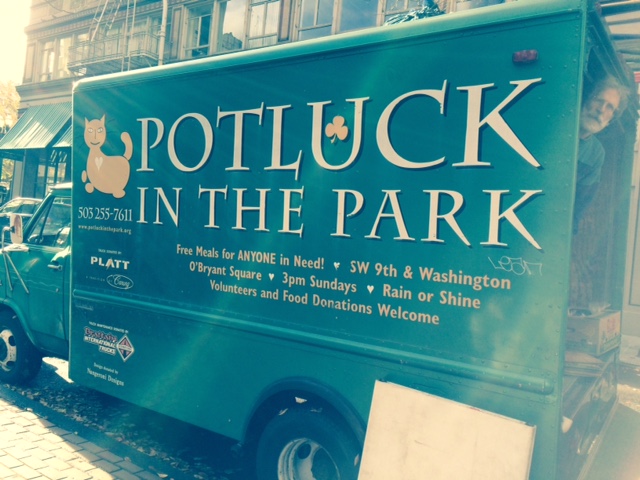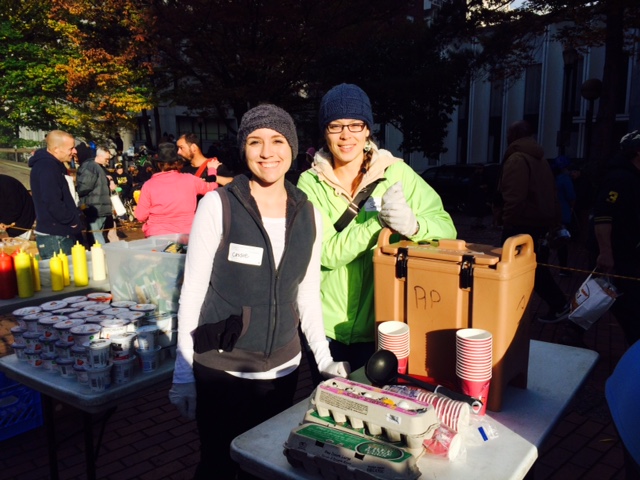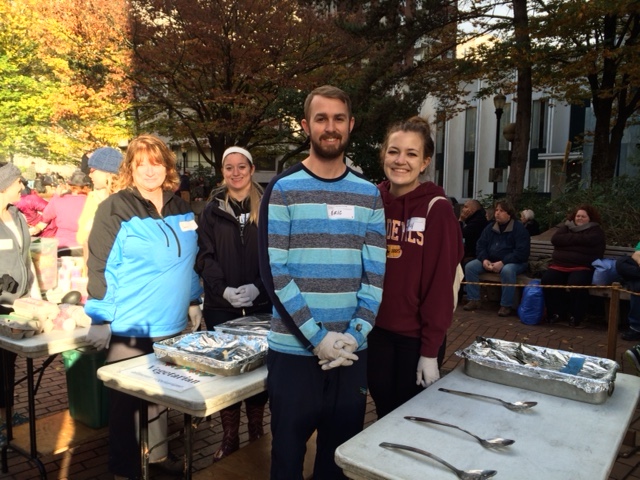 Several PAND members gathered for our fall volunteer event helping Potluck in the Park serve over 500 free meals to those in need in O'Bryant Square downtown. If you are looking to volunteer this holiday season or throughout the year, Potluck in the Park makes it easy to sign up and accepts a total of 54 volunteers every Sunday from 2-5 pm rain or shine."

---
Book Club
November 17, 2014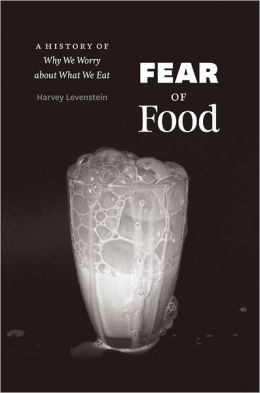 The OHSU Graduate Programs in Human Nutrition hosted a riviting book club discussion on: Fear of Food: A History of Why We Worry about What We Eat by Harvey Levenstein.

"There may be no greater source of anxiety for Americans today than the question of what to eat and drink. In Fear of Food Levenstein reveals the people and interests who have created and exploited these worries, causing an extraordinary number of Americans to allow fear to trump pleasure in dictating their food choices. Levenstein also highlights how large food companies have taken advantage of these concerns by marketing their products to combat the fear of the moment. In Fear of Food, Levenstein offers a much-needed voice of reason; he expertly questions these stories of constantly changing advice to reveal that there are no hard-and-fast facts when it comes to eating."


---
Nutrition for Sports, Exercise and Weight Management
December 5-6, 2014
Sports dietitian Nancy Clark MS, RD, CSSD and exercise physiologist and researcher John Ivy Phd lead a workshop that combineed science with real-world experience, including case studies and their personal wisdom. This workshop covered the spectrum from fitness exercisers to competitive athletes and we left with practical tips on how to effectively teach the sports nutrition message. You will leave feeling confident in the information you share with your clients.

For more information follow the link: http://www.nutritionsportsexerciseceus.com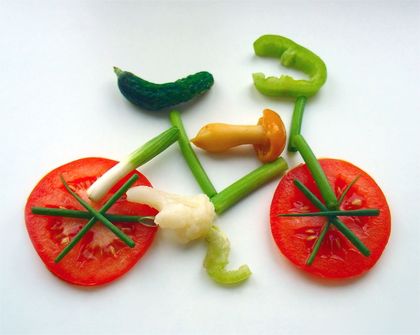 ---
Book Club
December 15, 2014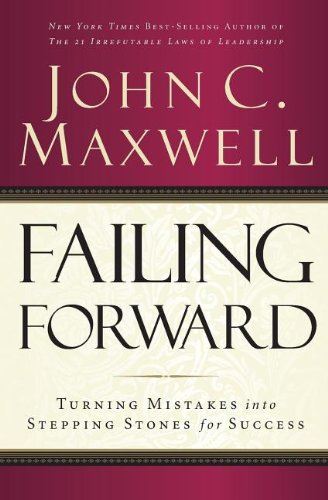 The OHSU Graduate Programs in Human Nutrition hosted a riviting book club discussion on: Failing Forward: Turning Mistakes into Stepping Stones for Success by John Maxwell and The Confidence Code by Katty Kay & Claire Shipman
Failing Forward: "Are some people born to achieve anything they want while others struggle? New York Times best-selling author John C. Maxwell has the answer: The difference between average people and achieving people is their perception of and response to failure. Most people are never prepared to deal with failure. Maxwell has learned to make failure his friend, and he can teach you to do the same. I want to help you learn how to confidently look the prospect of failure in the eye and move forward anyway. Because in life, the question is not if you will have problems, but how you are going to deal with them. "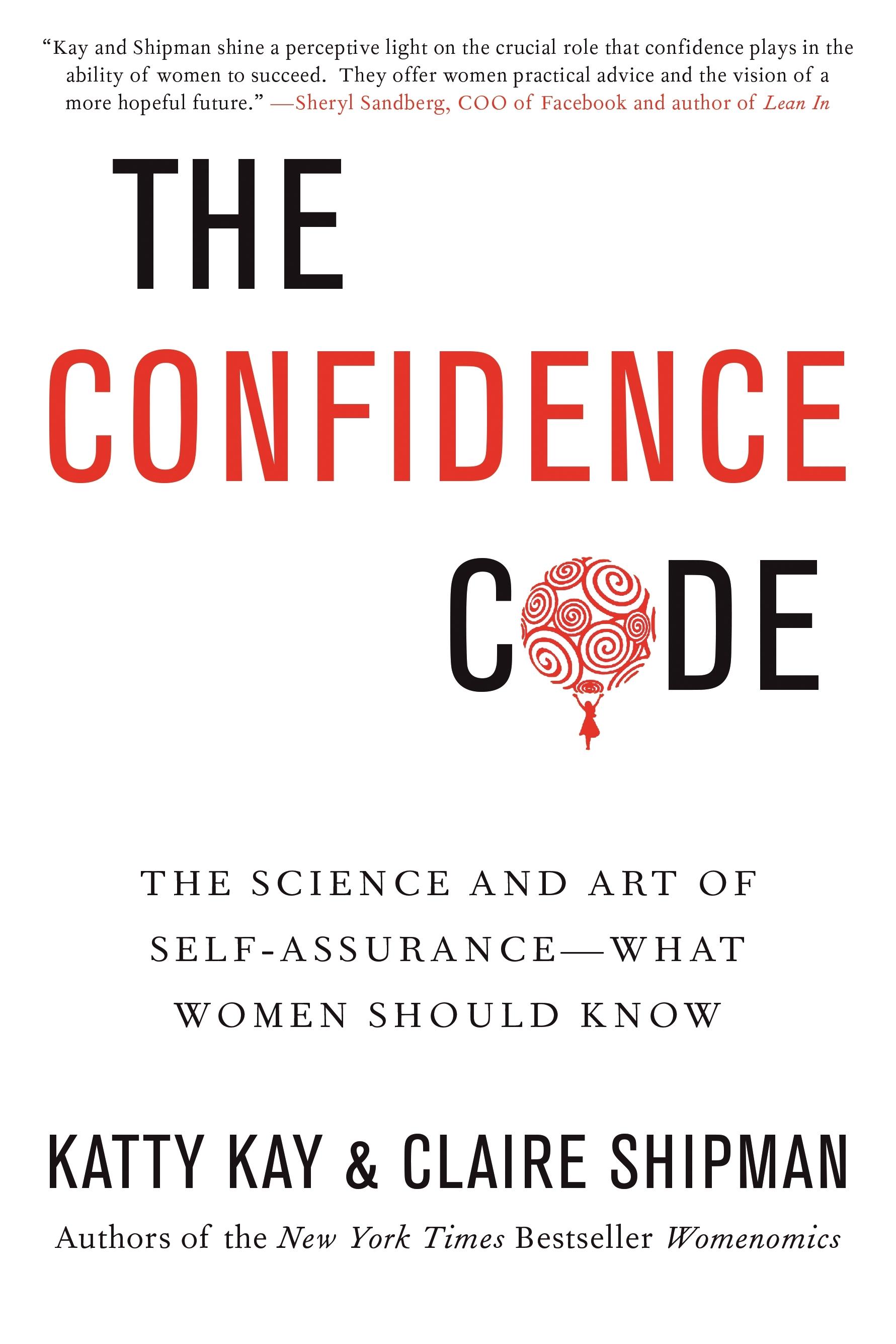 The Confidence Code: "Confidence. We know it when we see it or think we do. Why do so many women, even the most successful, seem to struggle with feelings of self-doubt? Journalists Shipman and Kay interview leading psychologists who explain how we can all chose to become more confident simply by taking action and courting risk, and how those actions change our physical wiring. They interview women leaders from the worlds of politics, sports, the military and the arts to learn how they have tapped into this elemental resource. They examine how a lack of confidence impacts our leadership, success, and fulfillment. Ultimately, developing confidence requires a choice: less worrying about people-pleasing and perfection and more action, risk taking, and fast failure. By acting on our best instincts and by daring to be authentic, women can feel the transformative power of a life on confidence."
---
Research Poster Review and Film Screening of Resistance with Winter Dessert Exchange
December 17, 2014

We ate sweet treats and joined PAND and OHSU's Graduate Programs in Human Nutrition as the dietetic interns and graduate students present their research utilizing the NHANES 2011-2012 data. A few topics that being presented were: "The relationship of vitamin D intake to insulin resistance" and "An association of omega-3 fatty acid and asthma rates among children."

Immediately following the poster review we held a film screening of Resistance, a milestone documentary highlighting the history and current setbacks of anti-biotic-resistance.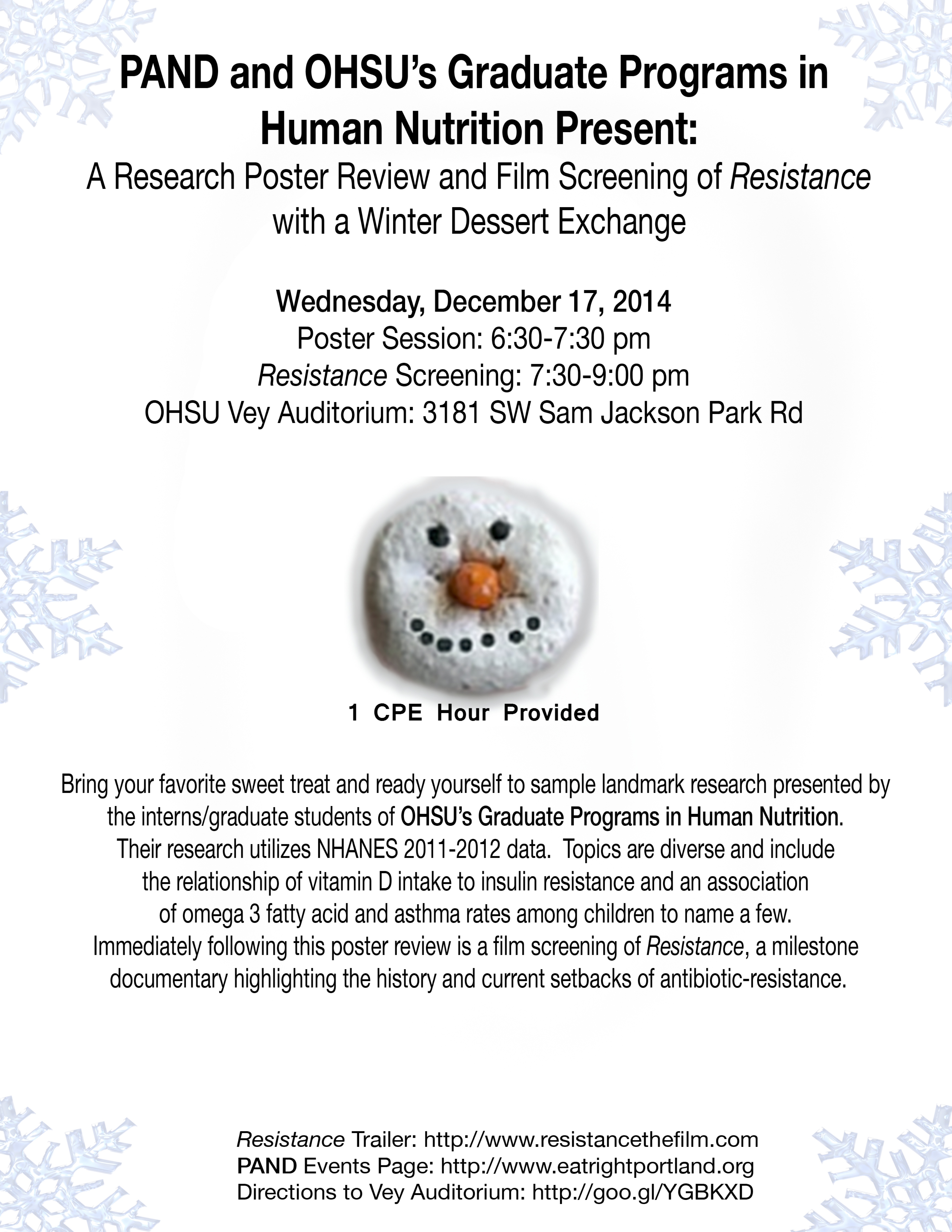 ---
Columbia River Eating Disorder Network Conference
February 21, 2015

The conference was held at the Lewis & Clark College, Portland OR and focused the topics on "Next Generation Eating Disorder Treatment: Moving from a 'One Size Fits all' Perspective."

Breakout session topics included:

Helping clients with medical concerns address eating without becoming disordered
Athletes and eating disorders
Using intuitive eating and movement to treat Binge Eating Disorder
Weight stigma
Family interventions
---
Winter Wine Social
March 5, 2015

As a thank you to all of our fantastic members we hosted a wine social and appetizer potluck. We all had such a wonderful and relaxing evening of wine, appetizers, a GREAT company! Cheers to a great membership year!
---
Breastfeeding and Lactation Seminar Series
January 26 - March 9, 2015

The second year Master students in the OHSU Graduate Programs in Human Nutrition hosted a riviting seminar series on breastfeeding and lacation. Topics included:

Anatomy and Physiology of Human Mammary Glands
Human Milk Composition Nutrients and Bioactive Factors
Early Infant Feeding and Development of Obesity
Materna Diet/Supplementation and Milk Composition
Evidence-based Interventions to Support Breastfeeding
Human Milk for the Premature/Medically Fragile Infants
Breastfeeding by Feeding Expressed Mother's Milk
Donor Human Milk Banking
Maternal Medication, Drug Use and Breastfeeding
Contraindications to Breastfeeding
---
Book Club Discussion
March 16, 2015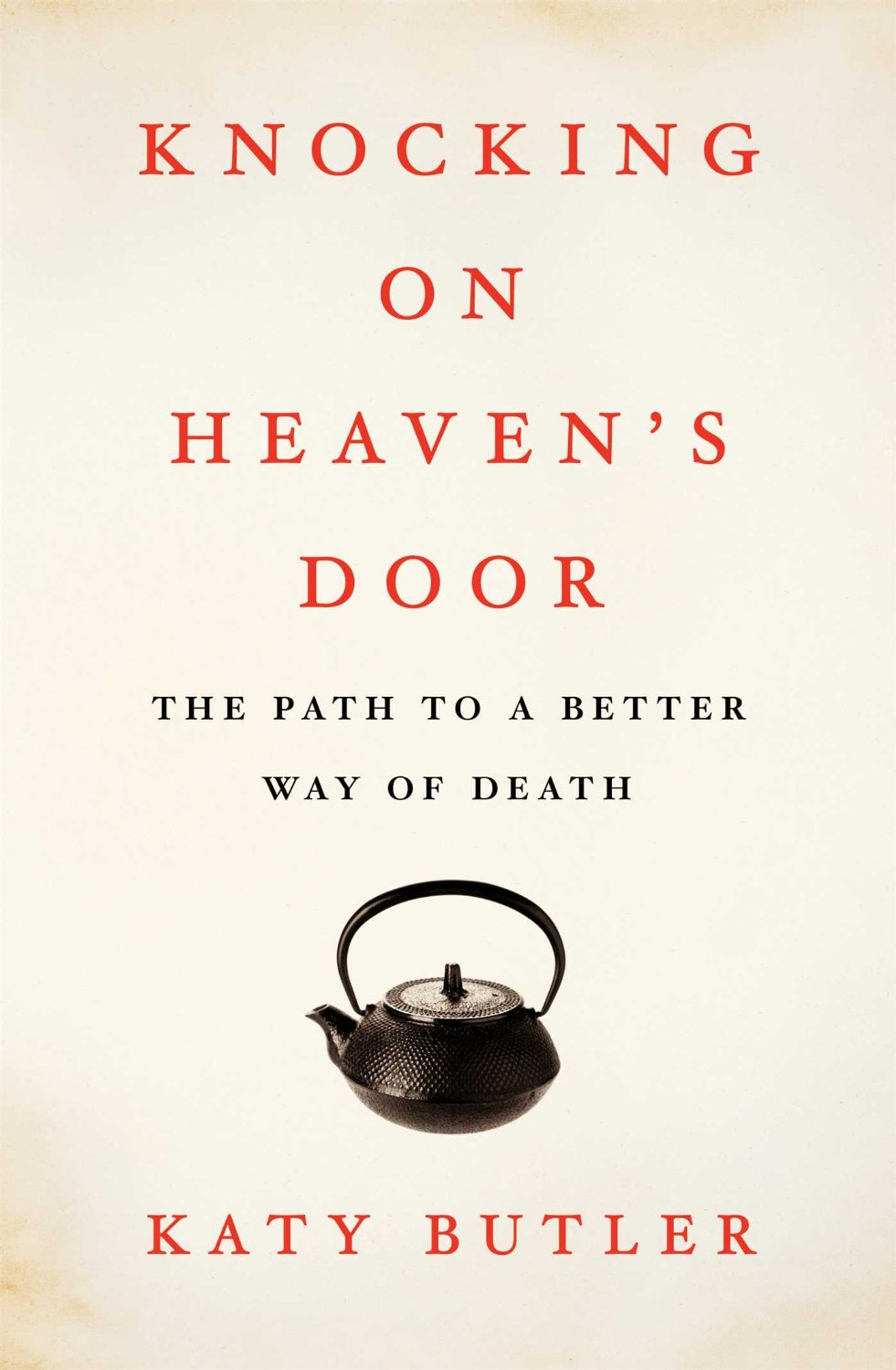 The OHSU Graduate Programs in Human Nutrition hosted a riviting book club discussion on: Knocking on Heaven's Door: The Path to a Better Way of Death hosted by Ashley Hilbert, RD.

Part memoir, part medical history, and part spiritual guide, Knocking on Heaven's Door is a map through the labyrinth of a broken medical system. Its provocative thesis is that technological medicine, obsessed with maximum longevity, often creates more suffering than it prevents. It also chronicles the rise of Slow Medicine, a movement bent on reclaiming the "Good Deaths" our ancestors prized. In families, hospitals, and the public sphere, this visionary memoir isinspiring passionate conversations about lighting the path to a better way of death.

---
The Future of Dietetics
April 29, 2015

PAND hosted an amazing opportunitty that allowed leaders in our field discuss the future of the profession.The panel members addressed topics including education, entrepreneurship, research, emerging career paths, social media, professionalism, and more!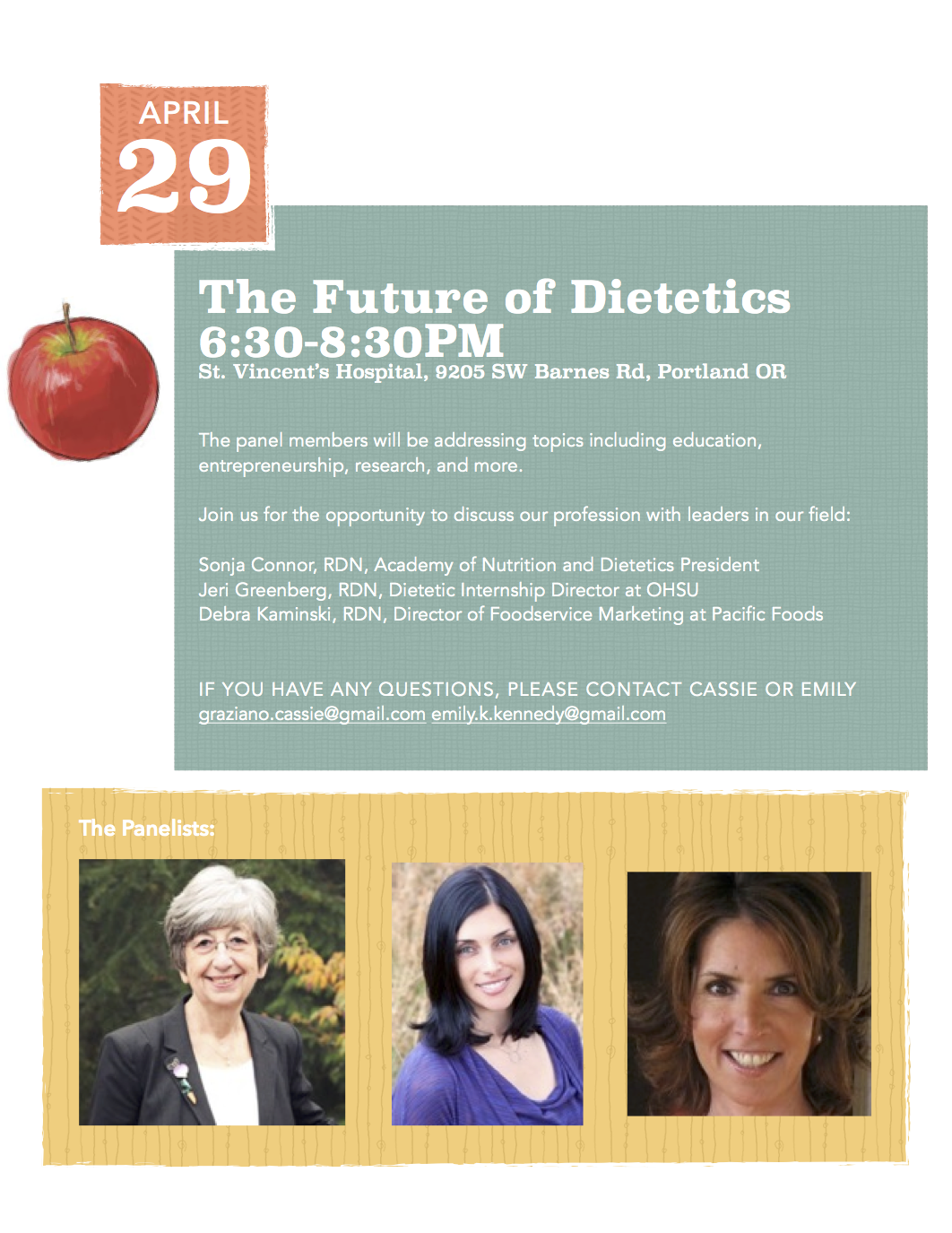 Sonja Connor, MS, RDN, LDN, FAND current president of the Academy of Nutrition and Dietetics
Jeri Finn, MS, RD, LD dietetic internship director at OHSU
Debra Kaminski, MS, RD director of food service marketing at Pacific Natural Foods
Gitta Grether-Sweeney, MS, RDN director of nutrition for Portland Public Schools