2013-2014 Events


January 22, 2014


The Portland Academy was fortunate to have Maureen McCarthy, MPH, RD present "Nutrition Focused Physical Exam- Micronutrient Strategies." Maureen has extensive knowledge of the process, research, and history of the physical exam. She teaches an in-depth class on the process for the OHSU Master's students in clinical nutrition every year.
---
December 18, 2013

OSHU's dietetic interns presented and discussed their research projects at a poster session event. Following the poster session, was a film review on the documentary Dive, which showcases the immense amount of food waste in America, focusing mostly on grocery stores.


---
November 13, 2013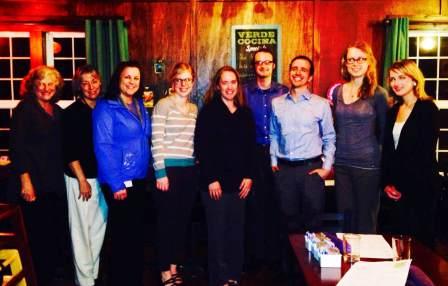 Andy Bellatti's post-presentation dinner with the Portland Academy board, Diane Stadler, and Nancy Becker. Andy presented "Food Industry Partnerships, A Political Slippery Slope" which prompted valuable insight and meaningful dialogue amongst a variety of perspectives. Link here for a sample of Andy's presentation.

---
September 19, 2013 Wine Social at Every Day Wine
---
October 24, 2013 Food Day Volunteer Event
Oregon's Food Bank's Community Basket at St. Mark's Lutheran Church & the emergency food pantry at St. Andrew's Episcopal Church
---
Portland Academy Board Meeting 2013-2014